Jim Clark
, was born in Kilmany, in the county of Fife to a Scottish farming family, roots that would stay with him the rest of his life. He was the only son in a family of four daughters. His early racing exploits were initially met by family disapproval. He raced in rallies and other local races under the guidance of his friend Ian Scott-Watson. Later he joined a team run by Jock McBain known as the Border Reivers. In one of these races he drove a Lotus Elite against none other than Colin Chapman. Chapman was very impressed by the young Scotsman and he would keep an eye on this young lad. Ironically in 1959 the Border Reivers planned to buy a single-seater Formula 2 Lotus for Clark but after watching Graham Hill lose a wheel in a similar car, Clark decided that the Lotus cars were not safe and that he would stick to sports cars for the time being. Eventually he graduated to an Aston Martin which brought him to the attention of Reg Parnell, the factory team manager. Aston Martin was planning on entering Formula 1 and after a test he signed the young Scotsman. Clark had also by this time signed a Formula 2 contract with Colin Chapman's Lotus team. Aston Martin's Formula 1 car was a disaster and the factory decided to abandon its efforts. In Formula 2 Clark enjoyed immediate success and when the Aston Martin drive failed to materialize, Clark signed on with with Lotus for Formula 1 as well.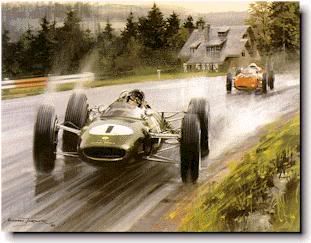 His first race for Lotus was at the Dutch Grand Prix in 1960, where he raced in place of John Surtees who was still racing motorcycles at the time. His race was pretty uneventful as he worked his way up to fifth place before he had to retire with a seized gearbox. The next race was at Spa in Belgium. This was the most dangerous course in Grand Prix racing, a 9 mille monster and in 1960 it took the lives of two drivers including Clark's teammate Alan Stacey. Yet in spite of this Clark would manage to finish fifth in his second Grand Prix. The next year was met with limited success and some controversy. At the Italian Grand Prix, Clark's Lotus came into contact with the Ferrari of Wolfgang von Trips. The Ferrari was propelled into the crowed killing several spectators as well as the German driver, Germany's best hope in decades. 1962 had top be better, and it was. In those days the calendar was sprinkled with non-championship Formula 1 races and this season began with two which Clark promptly won. Looking forward to the championship season opener in Holland his hopes were dashed by another broken gearbox. A week later at Monaco, a race that he would never win he was again betrayed by his machinery, but this time it was an engine failure. After the year began with so much promise Lotus was struggling to find some reliability. The Lotus 25 was a beautiful race car if only it could finish a race that counted. The answer came in Belgium at the track that Clark liked the least. Storming to victory Clark would win this race four times running. Denis Jenkinson, the legendary journalist, discussing his disdain for the World Championship and its bias towards reliability over wins, declared that only one race should count, that race being Spa and whoever won it should be declared the World Champion. Clark after a season long battle lost the championship to Graham Hill when his car broke down while leading the final race.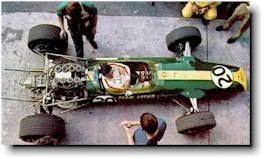 During a break in action Lotus took the Grand Prix car to Indianapolis and tested it on the famous speedway while the track was closed. He soon had the car lapping at 140 mph. The Americans who were in attendance that day were catching a glimpse of the future. In 1963 Clark dominated the World Championship winning an amazing 7 out of 10 races, garnering 7 poles in the process. At his first race at Indianapolis he finished second to Parnelli Jones. The next year was an up and down year with the championship being fought between Graham Hill, Surtees and Clark. The final and deciding race in Mexico saw Hill out due to a controversial collision with Surtees teammate Bandini. Clark was leading the race until the last lap when his engine seized and the title fell to Surtees and Ferrari. The championship in 1965 was again a duel between Clark, Hill and Surtees, but a fourth driver rose to the challenge the leading trio. His name was Jackie Stewart and the fellow Scot served notice that he would be a force to reckon with in the future. This year it was Clark's turn at the top rung and he included a win at Indianapolis for good measure. Leading the race for 190 laps out of 200 he left a lasting impression on his American rivals.
The new 3-litre Formula introduced in 1966 led to a down year for Lotus as they did not have an engine that was competitive. It was not till the arrival of the Ford Cosworth DFV in 1967 that brought Lotus back to the fore. Clark won at Zandvoort in the legendary engine's first start yet it was too late in the season and Clark had to settle for 3rd place in the World Championship. 1968 started with a win in South Africa, which allowed Clark to surpass Juan-Manuel Fangio in Grand Prix victories. Sadly this was to be his last win for he was killed in a Formula 2 race in Hockenheim that year. A shy unassuming man his legend lives on as one of the very best and places him amongst the giants of the sport Nuvolari, Fangio and Senna.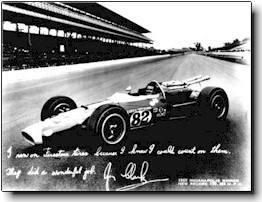 Jim Clark
stats-
Number of Grand Prix-
74
(
73
starts)
Number of wins-
25
Number of pole positions-
33
Number of fastest laps-
28
credit-ddavid.com