Ronnie Peterson
, made his Formula 1 debut in 1970 with the March team, the same team he had been racing for in the junior formula. He immediately impressed the world with his raw speed. In 1971 he scored five second place finishes and was runner-up to Jackie Stewart in the World Championship. The March team was run on a shoestring budget and it was not until he left for Lotus in 1973, that he won his first race at the French Grand Prix.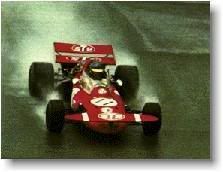 Teaming with Emerson Fittipaldi, the current World Champion, he was proving to be more than a match for the Brazilian. He went on to win three more races that year and finished third in the World Championship. Fittipaldi soon left for McLaren and Ronnie Peterson continued with Lotus as the team leader for the next two years but the Lotus 72 was at the end of its useful life. In 1976 he returned to March but had limited success. 1977 brought an offer to drive the 6-wheel Tyrrell. This very complex car was just the opposite of what Peterson needed. Being a disaster as a test driver he was lost in the Tyrrell.
1977 served as the low point of his career and for 1978 he returned to Lotus as a number two to Mario Andretti. Mario at first questioned this arrangement as he well new that Ronnie was no number two. As an indication of his character Ronnie accepted this position without malice; a far cry from the political intrigue that is Formula 1 today. Together they dominated the 1978 season in the Lotus 79 with Peterson scoring a pair of spectacular wins. Peterson acted the loyal number two but there were time when his brilliance could not be masked. He out qualified his teammate at Brands Hatch even though he was using hard compound tires, rather than the qualifiers which were held for Andretti, and a half tank of gas! After his victory at Zeltweg in Austria he trailed Andretti by only 9 points with 4 races remaining. It was well known that he would be with another team in 1979 and some suggested that he should just go for the championship with nothing to lose. Nothing except his word: SuperSwede
"I'm going to McLaren next year", he said. "It's not announced yet, but Mario knows, Some of these people," he sighed, "who say I should forget our agreement now... I don't understand them. I had open eyes when I signed the contract, and I also gave my word. If I break it now, who will ever trust me again?"
At the next race Andretti's car broke an exhaust and lost power yet Peterson followed him over the line. Peterson felt that his time would come next year, as he had been offered a number one position with McLaren. All of that ended before it began when Ronnie Peterson died as the result of an accident at Monza. In 1978, in Formula One the music had stopped, more than a man died that day for Formula 1 had lost its innocence.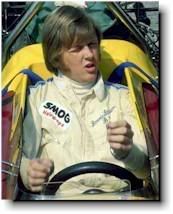 Ronnie Peterson
stats-
Number of Grand Prix-
123
Number of wins-
10
Number of pole positions-
14
Number of fastest laps-
9
credit-ddavid.com